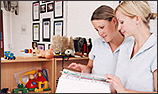 Are you thinking about
your next fundraiser?

Give us a call today and let us explain how your organization can benefit from a structured annual fundraising campaign.

706-254-8776
Why Community
Fundraising Books?
Most people agree that product fundraising is an important resource for America's youth. More than just raising money to pay for valuable programs, a well-run fundraising drive can be an experience that builds self-esteem, provides community service, and promotes school, organization and community spirit for all involved.

Millions of parents and young people participate in product fundraising programs each year. Research has found 75 percent of Americans - and eight out of 10 parents - purchase fundraising products. The vast majority of fundraising sales are made to family and friends. Successful fundraising drives do not rely on children knocking on doors, but rather children and their parents asking for support from family, close neighbors and friends.
Source:
Association of Fund-Raising Distributors and Suppliers (AFRDS)
Community Fundraising Books proudly supports the following types of non-profit groups with fundraising programs in the greater metro area to aid in critical funding all year long.

Schools
Churches
Community Clubs
Non-profits
Community Fundraising Books supports the following types
of non-profit groups by providing valuable funding all year long.

Non-Profits
Community Fundraising Books will sponsor one or two major non-profit organizations in each area of operation (territory) with our Community Fundraising Book program. We typically leverage statewide relationships and determine through various organizations and internal processes which organization has a need which will strengthen the local community and where we can have the maximum positive impact.

Child Care Fundraising
The Community Fundraising Coupon Book program was designed for all different levels of schools like: Child Care Facilities, PreK Programs, After School Programs, Elementary Schools, Primary Schools, Middle Schools, High Schools, Chartered Schools and Private Christian Schools.

The Community Fundraising Coupon Books are a local targeted coupon book that has around 105 area sponsors that have contributed well over a thousand dollars in offers to support your school fundraising needs.

The coupon books are placed on consignment which means that there are no up front costs and any unsold coupon books can be returned without penalty. For you the fundraiser this makes the coupon books the perfect local fund raising product that is "Saving Supporters Thousands™".






SCHOOLS
We support educational institutions with any level of fundraising. Whether Preschool, Grade School, Middle School, High School, or College we will assist with their fundraising needs. From clubs to classroom or the entire school, we know how to help them be as efficient as possible with their fundraising efforts.

Our hope is that Public, private and home schools will all take advantage of our Community Fundraising Book programs.

Examples of educational customers include:
Classroom Teachers
Parent Teacher Organizations and Associations - PTO's; PTA's
Clubs - Debate Team; Junior Class; Senior Class; National Honor Society; Student Council; Anchor Club; Drama Club; NJROTC; Model United Nations Club; DECA; FBLA
Music - School Band; Orchestra; Chorus; Band Boosters; Marching Band; Choir
Sports Teams - Soccer; Tennis; Football; Cheerleaders; Swim; Basketball; Lacrosse; Softball; Baseball; Track; Cross Country; Volleyball; Wrestling; and Team Booster Clubs
These videos can be of us "The Fundraising Guys" on site or we can come out to the school and the students can be the "Stars" of your next fundraising program...

CHURCHES
We can cater to all Houses of Worship in the greater metro Atlanta Georgia region. Men, women and youth groups can use Community Fundraising Books to raise funds to further their causes. Past experience tells us that "Youth Groups" tend to have the most motivated fundraising members.

Examples of church fundraising events include:
Youth Groups - All denominations
Church-affiliated child care centers
Women's Clubs - Women of Purpose; Power of Praying Wives; Ladies Auxiliary; United Methodist Women's; Wesleyan Women
Men's Clubs - Knights of Columbus; United Methodist Men's; Wesleyan Men's Fellowship; Methodist Men of Zion; Baptist Church Men's Club
COMMUNITY CLUBS
We serve a vital fundraising role for groups working to support the communities in which they live.

Examples of community customers include:
Community Sports Teams - little league teams; challenge soccer leagues; neighborhood swim teams; competition cheerleading; dance performance troops; neighborhood soccer teams; All-star baseball and basketball teams; gymnastics etc.
Pet Rescue - Adopt a Pet; Animal Outreach; Specific Breed Rescue Squads; Humane Societies in several counties; County Animal Rescue Centers
Research Groups - American Cancer Society; Pilot Clubs; Relay for Life groups; Children's Miracle Network; March of Dimes; Leukemia; American Diabetes Association; Arthritis Foundation
Clubs with Philanthropic Contribution - Mobile Health Outreach; Kiwanis Clubs; Lions Clubs; Freemasons; Shriners; Optimist Clubs; New Comers; Area Jaycees; Greek Sororities and Fraternities; Garden Clubs; YMCA; Habitat for Humanity
Scouts - Boy Scouts; Girl Scouts; Explorer Posts; Royal Rangers; 4-H
Support Groups - Parents without Partners; Mothers of Multiples; Minister's Spouses; United Way; National Guard Family Support; Single Mothers; M.A.D.D.